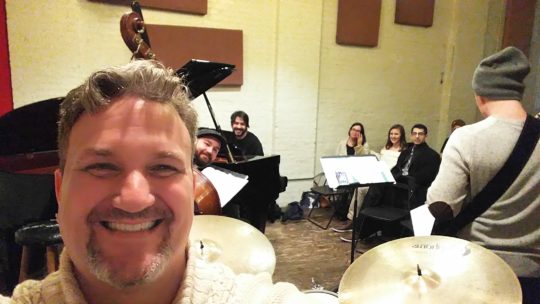 Music Calendar for Mr. Carroll…
Nov 5 Eli Asher Band @ Bloomingdale School of Music 323 west 108th street NYC 10025
Eli Asher and Brandon Vazquez, trumpets 
Michael Cochrane, piano Kevin Farrell, bass
Sept 17 Deep Pockets Friday Night at Charlottes Speakeasy 7:30pm feat. Mala Waldron Pn, David Pelligrino Bs and Omar Kabir Tp
Sept 10 Deep Pockets Friday Night at Charlottes Speakeasy 7:30pm feat. Mala Waldron Pn, David Pelligrino Bs and Omar Kabir Tp
Aug 14 Sebestian Noelle Trio Private event
Sebestian Noelle Gt, Matt Aronoff Bs
July 31 Jacob Varmus Quintet at Riverside Park 7PM-9PM Santiago Liebson, electric piano; Sean Connely, bass; Pete Mcann GT
DEC 09 Oscar Feldman Quarter @Smalls Jazz Club
Oscar Feldman Al, John Bentiz BS, Leo Genovsa Pn 
2020 – 2021  Chovid 🙁
April 4 Jacob Varmus Band @ Scholes
Feb 21 Jacob Varmus Band @ Shivana
Jan 18 Oct 14  6-8 PM Jacob Varmus Band @ Shrine Harlem
Sam Minae Bs, Jacob Varmus Tmp
Jan 16 @ Still Partners – Glenn Clove 
Bill Tides Gt, Chris Crosby Bs
Dec 31 Nick Russo Band @ Monas NYC
Dec 12-24 Kolkata, India. After a few shots, work and study – I will be taking my first trip to India.  Some of you know that I was a Semi Finalist for Fulbright 2018- well 2019 is the year and in a way this trip is more prep work for my Fulbright.  Blah blah blah….back to work.
Dec 7 HINDUSTANI MUSIC at Freeport United Methodist Church.
This will be a introduction in dedication to my amazing church to the music I study and a concert for them before my travel to India.  I have one of the finest sitar players in American that will be with me. If you dont see me on other gigs, well its cause im trying to do a amazing job you this night!
Abhik Mukherjee Sitar
Chris Carroll – Tabla 
Oct14  6-8 PM Jacob Varmus Band @ Shrine
Jacob Varmus Tr,  Sean Conely Bs, Santiago Leibson Pn,
Aug 25  6-8 PM Jacob Varmus Band @ Shrine
Jacob Varmus Tr,  Sean Conely Bs, Santiago Leibson Pn,
Aug 5, Hindustani Music @ Fatcat 6pm Village NYC
Galen Passen Sitar, Chris Carroll – Tabla
July 27 Jacob Varmus Band @ Riverside Park on the Hudon Jacob Varmus Tr,  Shawn Lovato Bs, Santiago Leibson Pn,
July 19 Jacob Varmus Band @ Scholes Street Studio  Jacob Varmus Tr,  Shawn Lovato Bs, Santiago Leibson Pn,
June 2 @ 9pm Sam Blais Quintet @ Shapshifter SamBlais Al, Nico Letman Bs, Aki ishurgo, Jamie Baum Fl
June 2 6-8 PM Jacob Varmus Band @ Muchmors Jacob Varmus Tr,  Sean Conely Bs, Santiago Leibson Pn,
May 30 Shawn Lovato Band  @ The Jazz Gallery NYC
Brad Shepik Gt, Oscar Fieldman Al,  Santiago Leibson Pn, Shawn Lovato Bs-Compostions
May-18  Tablaphilia @ Chhandayan's  20th Annual All Night Concert @
New York Society for Ethical Culture 2 West, 64th Street New York City, NY, 10023
May 1st 7PM Jacob Varmus Band @ Shrine
Jacob Varmus Tr,  Sean Conely Bs, Santiago Leibson Pn,
April 27th  6PM Jacob Varmus Duo @ Silvana 
Jacob Varmus Tr,  Chris Carroll Drums 
April 14th Jacob Varmus Band @ 6:30PM  Muchmore's Brooklyn
Jacob Varmus Tr,  Sean Conely Bs, Santiago Leibson Pn,
March 31 Jacob Varmus Band @ Silvana  Harlem  7pm
Jacob Varmus Tr,  Sean Conely Bs, Santiago Leibson Pn,
March 21 Jacob Varmus Band @ The Shrine Harlem  7pm
Jacob Varmus Tr,  Sean Conely Bs, Santiago Leibson Pn,
March 8 Ryan Conger Band featuring Chris Carroll @ Lighthouse, Ogden Ut
Corey Christiansen Gt,  Ryan Conger Or
March 6 Chris Carroll Band @ Rabbit Hole Salt Lake City, Ut
Corey Christiansen Gt,  Ryan Conger Or
Feb 17 Sheppard Singers Gospel Band @ United Methodist Men of Peekskill
Jan 23 Jacob Varmus Band@ Silvana Harlem  7pm
Jacob Varmus Tr,  Sean Conely Bs, Santiago Leibson Pn,
Dec 28  Shawn Lovato  @ 12/28 Muchmore's Williamsburg 9
Brad Shepik Gt, Oscar Fieldman Al, Shawn Lovato Bs
Nov 2 Shrine Jacob Varmus Quartet @ Silvana Harlem  7pm
Jacob Varmus Tr, Chris Bacus Sx
Sept 28 Shrine Jacob Varmus Trio
Jacob Varmus Tr, Shawn Lovato Bs
Hiatus – Devotion to Indian Hidustani Studies on Tabla- Summer 2018
Under Leadship and Direct Guidance of Gurujii Pandit Samir Chatterjee
July 2  Shawn Lovato  @ Pine Box Rock Shop in Bushwick 9:30
Brad Shepik Gt, Oscar Fieldman Al, Shawn Lovato Bs
June 18 Nat Janoff @ 55 bar NYC  730-930
Nat Janoff,  Francois Moutin Bs
March 20 Nat Janoff @ 55 bar NYC  730-930
March 9 Ryan Conger Organ Trio @The Garage  Salt Lake City  UT
Ryan  Conger Or, Brad Wright Gt
March 8 930-10:30am Master Class with Chris Carroll @ University of Utah
March 8 1:00pm to 2:30pm Master Class with Chris Carroll @ Utah Valley University
March 7 Chris Carroll Band @ Lake Effect Jazz Club, Salt Lake City UT
Isaiah Smith Pn, ,Braun Khan Bs
Feb 10 Shawn Lovato Qunitet @ I-Beam Brooklyn 8pm 
Oscar Noriega Al, Brad Shepik Gt, Santiago Leibson Pn,
Jan 23  Open Tabs Ensemble 7pm @ Shrine World Music
Eli Asher – tpt, Yuma Uesaka – ts, Santiago Leibson – pno/cmp
Shawn Lovato – bs/cmp
Nov 22-Dec 5 China Tour with Arden Arypyan Quintet featuring SASHA DJIHANIAN. See below
Dec 2 "长沙市开福区新河三角洲滨江文化园"三馆一厅"音乐厅
Changsha Kaifu District, the new delta riverside Cultural Park ""Museum Hall Concert Hall"
Nov 30 "涪陵大剧院:重庆市涪陵区滨江大道二段2号锦绣广场
Fuling Grand Theater:No.2,Binjiang Dadao,Fuling District,Chongqing. http://www.fldjy.com/"
Nov 29 "广西壮族自治区南宁市江南区星光大道4号南宁剧场
Nanning theatre, 4 star avenue, Jiangnan District, the Guangxi Zhuang Autonomous Region, Nanning"
Nov 25 "杭州大剧院:浙江省杭州市江干区新业路39号
Hangzhou Concert Hall:Hangzhou Zhejiang Province Jianggan Xinye Road No. 39 http://www.hzdjy.com/"
Nov 19  Al Cardillo@ Aperitif Bistro Bar, Rockville Center 6-9
Kevin Clark Gt, Al Cardillo Bs
Nov 12 Brittany Dorazio Band @ The Cutting Room 9:30pm
Oct 23 Nico Letman Trio @ Trans Pecos
Nico Letman Bs, Akira Ishiguro Gt
Oct 21  Cycles of Animation Record releases for Skirl Records
Shawn Lovato Qunitet @The Drawing Room 8pm 
Oscar Noriega Al, Brad Shepik Gt, Santiago Leibson Pn,
Oct 11 Chris Carroll "Biotonic" @ 55 bar NYC  700-930
Alex Levine Gt, Peyton Pleninger Tn, Louis De Mieulle Bs

Oct 6 ACKER & BLACKER'S STAR WARS: ESCAPE FROM VODRAN BOOK RELEASE VARIETY SHOW! @ The Bell House Gowanus,BK
9:30 Yes Im Drumming 🙂
Sept 23 Chris Carroll Quintet @ Freeport United Methodist Church. 46 Pine Street, Freeport NY  7-9
Justin Muellins Tr, Jay Azzolina Gt, Peyton Plenninger TN, Marty Kenney bs
September 19 Nat Janoff @ 55 bar NYC  730-930
Nat Janoff Gt, Teymur Phell Bs
September 16 Nat Janoff Trio @ Bar Next Door
Nat Janoff Gt, Teymur Phell Bs
September 11  Chris Carroll trio @ 55 bar NYC  630-930
Rez Abbasi gt ,Marty Kenny  Bs
September 10 Al Cardillo@ Aperitif Bistro Bar, Rockville Center 6-9
Bryant Carrot Vibes, TK Blue Sax
Aug 2 Jay Azzolina Trio @ Rosemary and Vine Restaurant Rye NY
Jay Azzolina gt ,Ron Oswanski Or
July 31 Nat Janoff @ 55 bar NYC  730-930
Nat Janoff Gt, Teymur Phell Bs
July 23 Chris Carroll trio @ 55 bar NYC  630-930
Rez Abbasi gt Carlo Derosa Bs
Jul 22 Daniel Bennett @ Tomi Jazz 7-9
Jul 13 Ed Gavitt Band Madison Square Park NYC, 6pm
June 13 Shawn Lovato Quintet @ Shapshifter 7 pm
Lauren Stillman Al, Brad Shepik Gt, Santiago Leibson Pn, Shauwn Lovato Bs
June 11 Al Cardillo @ Aperitif Bistro Bar, Rockville Center 6-9
Sam Dillon Ts, James Navan Pn, Al Cardillo Bs
Cd Release party for  Chris Carroll " House Call" CD
June 6 Chris Carroll  @ 55 Bar 7-9
Brian Charette Og, Jay Azzolina Gt, Peyton Plenninger TN
May 23 Alex Bellegarde Quartet @ Diese Onze Montreal 8:Pm
Alex Bellegarde Bs, Julien Fillion Al, Eric St Jean Pn
May 21 Arden Arypyan Quintet featuring SASHA DJIHANIAN 8pm
2855 Rue Victor-Doré, Montréal, QC H3M 1T1, Montreal
SASHA DJIHANIAN Vc, Arden Arypyan Pn, Sam Blais,Al, Oli Hébert Bs
May 20 Sam Blais Quintet @ Deise Onze Montreal 2 sets
Rafael Zaldivar pn, Sam Blais Al, Rémi-Jean Leblanc bs
May 19 Yoel Diaz Trio @ House Of Jazz Laval 2 sets
Yoel Diaz Pn, Alex Bellegarde  Bs 6-9
May 10 Nat Janoff @ 55 bar NYC  730-930
Nat Janoff Gt, Teymur Phell Bs
May 3  Peyton Plenninger Biotonic @ Shapeshifter, NYC
Alex Levine gt, Peyton PleningerSx, Louis De Mieulle bs
April 6 Peyton Plenninger Band @ Jazz Gallery , NYC 7:30/9:30 Sets
Alex Levine gt, Peyton PleningerSx, Louis De Mieulle bs
March 13 Nat Janoff @ 55 bar NYC  730-930
March 5 Peyton Plenninger Band @ Willamsburgh Music Center 10:30
Alex Levine gt, Peyton PleningerSx
Feb 26 Al Cardillo@ Aperitif Bistro Bar, Rockville Center 6-9
Bryant carrot vibes Mark Marino on Guitar
Feb 1  Chris Carroll Trio + Special Guest Jazz at the 90's Club
9065 South 150 west (monroe st), Sandy, Utah 84070  7-10 PM
TBA Band
January 30 Peyton Plenninger Trio @ Silavans Harlem 6-8
Alex Levine gt, Peyton PleningerSx, Louis De Mieulle bs
January 22 Al Cardillo@ Aperitif Bistro Bar, Rockville Center 6-9
Alejandro Avilés AL, Tim Regusis Pn, Al Cardillo Bs
January 18 Peyton Plenninger Band @ Shrine Harlem 6-8
Alex Levine gt, Louis De Mieulle bs, Peyton PleningerSx