Chris Carroll is a New York City-based drummer, who has amassed a vast musical vocabulary. Stylistically, his drumming pulses with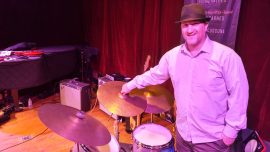 cross-cultural rhythms. With roots deep in rock music and a love for jazz & improvised music, Chris is known for performing music that is simple in form to extremely complex. His awareness of musical dynamics supports the artist's ability; he or she can be reticent, or, in the alternative, explosive and an all-out powerhouse.  Drawing from a diverse pool of musical and spiritual influences, Chris blends his curiosity for different cultures with an eye (and ear) towards the future.  
Chris released his third album "House Call",  11 tracks in organ jazz trio format.  Breaking away from his second record "Current Shifts", the drummer moves from global, exploratory improvisation to American Soul Jazz. Paying homage to organ based music, he shows equal respect to both groove and swing. From the first track, "Three of Three"  with its heavy back beat, to the last  swinging blues track "The Vague Reply", Chris reveals his deep respect for this form of music. He draws inspiration from the blues, swing, 60s rock as well as his fellow musicians. He showcases three original compositions by guitarist Jay Azzolina written exclusively for "House Call".  Saxophonist/Composer "Peyton Pleninger", contributes a beautiful Boogaloo song, written when he was only 19. Organist Brian Charette is in full command at glueing the band's time while maintaining harmony, melody and forward motion as well as contribution his own unique originals and arrangements.

Chris' is also in demand as a sideman, having recorded with Shawn Lovato ,Nat Janoff,  Bryan Murray and Justin Flynn. He plays regularly with many of New York's finest musicians, including Rez Abbasi, Donny McCaslin, Francois Moutin, Ben Monder, Brad Shepik, Loren Stillman, Ron Affif, Paul Bollenback, Hans Glawischnig, Alex Blake, Pedro Giraudo, Jay Azzolina, Matt Penman, George Colligan, Felix Pastorius, Ben Street, Drew Gress, Vic Juris and Sam Blais
Internationally touring  includes China , Greece,  Quebec City, Toronto, Ottawa,  Montreal, Banff, Calgary, Utah
In addition to performing,  Chris is an educator,  clinician, and a private drum instructor with access to Skype.  Chris also runs a recording studio, which features a 1927 Steinway B piano.  Please visit  www.mantrarecordingstudio.com. Chris is endorsed by Evans Drums, Planet Waves Cables, Avid Technologies, Solid State Logic and Hear back Technologies.
Please visit www.chriscarrollmusic.com for more information.