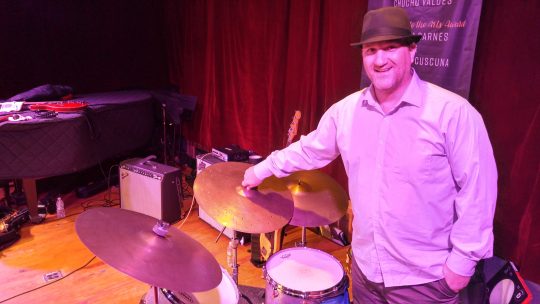 Drummer/ Composer (BMI) Chris Carroll is a New York City based drummer and tabla player, specializing in improvisational music and sharing creativity with other musicians. He is an honest, emotional, self-aware and adaptable person who has been captivated by music from other cultures. His energetic life force comes from influences absorbed from all over the world, and as he points out, "I would not have it any other way." Mr. Carroll's drumming blends curiosity for different cultures and musical genres transforming them into future music.

Secular music permeated his childhood in Long Island, NY and cultural creative music still continues to occupy a focus of his life. Born into a very small family of teachers in Long Island, he is the only musician in his family. In elementary school, he studied the cello, piano and snare drum. After discovering jazz, he auditioned for B.O.C.E.S. Cultural Arts Musical High School in Long Island, N.Y to prepare for the New School in New York City. He graduated from The New School Jazz Division, majoring in jazz performance.

Working full time as a musician, Mr. Carroll has recorded three jazz albums as a leader and three as a sideman. These albums clearly reflect his musical evolution and his great respect for all genres. "Facing Away", the first album, focused on modern interpretations of compositions by American jazz masters. In 2014 he released his second album "Current Shifts", which explored improvisation in global music. Interacting with other artists from all over the world, he created his own style, incorporating elements from the Venezuelan merengue and the joropo, as well as Afro-Peruvian and South American music. 2017 marked Mr. Carroll's third album, revealing the roots of American soul jazz, specifically, organ jazz music. "House Call" paid homage to this genre of the last 60 years. This music is a conduit to the powerful force that musicians refer to as "the swing and groove". Throughout his career, his recordings demonstrate these new directions by exploring past lore. His musicality exemplifies his curiosity and the merging of cultures and people.

Mr. Carroll is also in demand as a sideman, having recorded with Shawn Lovato ,Nat Janoff, Bryan Murray and Justin Flynn.He plays regularly with many of New York's finest musicians, including Rez Abbasi, Donny McCaslin, Francois Moutin, Ben Monder, Brad Shepik, Ron Affif, Paul Bollenback, Hans Glawischnig, Alex Blake, Pedro Giraudo, Jay Azzolina, Matt Penman, George Colligan, Ben Street, Drew Gress, Vic Juris, and Sam Blais. On Sundays he plays gospel music at Freeport United Methodist Church.

Mr. Carroll has toured globally: in India Tabla Performances, China (Jazz Meets Opera), in Greece (Swing Music), and in Canada, playing original jazz.  He has performed at the Canmore Jazz Festival in Banff, Canada, the Maryland Chestertown Jazz Fest as well as in NYC jazz clubs, The Jazz Gallery, 55 Bar, Smoke and Smalls. He has conducted master workshops on Global Rhythmic Development on drums at Hofstra University, the University of Utah and the University of Utah Valley. He was a Semi finalist for the Fulbright program 2018 and now in 2109 a Fulbright semi-finalist awaiting approval for a trip to India in 2020.

In addition to performing, Chris is an educator, clinician, and a private drum instructor with access to Skype. Chris also runs a recording studio, which features a 1927 Steinway B grand piano. Please visit www.mantrarecordingstudio.com.
Chris is endorsed by Evans Drums, Planet Waves Cables, Avid Technologies, Solid State Logic and Hear Back Technologies.

Please visit www.chriscarrollmusic.com for more information.